Dentist Blue Springs, MO – N.E. Farney, DDS
At Dental N.E. Farney, DDS, we value our patient relationships, making it our priority to deliver gentle compassionate care that you deserve from a dentist in Blue Springs. We work hard to make you feel at ease by providing exceptional patient care in a relaxed, convenient atmosphere. We strive to develop lifelong relationships with our patients by combining the latest dental technology with a professional and compassionate staff. The result is a beautiful, healthy smile that lasts a lifetime.
We also believe that patients should have sufficient information to make educated decisions about their oral health, treatment options and choice of dentist in Blue Springs. You'll find important information on our website, including directions to our Blue Springs office, service descriptions, patient forms and more.
Not only are we a leading dentist in Blue Springs, we are a full-service practice providing for all of your dental needs. Our services include:
General Dentistry
Preventive Care
Periodontal Exams
View a Complete List of our Dental Services
Should you ever need additional information about our practice, we are always available to answer your questions. Let us care for your entire family! We look forward to meeting you.
"Dr Farney has been my dentist for over 40 years and every procedure has been done with the utmost professionalism. The office is comfortable and his staff is terrific too!"
"Dr. Farney and his staff are amazing. I really felt cared for as a person as they checked on my comfort and needs throughout the procedure. Even though I live in Washington now my family is in Kansas City, so I still visit Dr. Farney for dental care whenever I can because his quality of work is unsurpassed!
"Dr. Nelson Farney has been our dentist for over 20 years. My husband, jazz saxophonist Ahmad Alaadeen was dreadfully afraid of the dentist and subsequently had never been to one. He was 60 years old, losing his teeth and putting up with a lot of pain. Neglecting his teeth would soon affect his armature and his ability to play his horn. But he couldn't get past his fears. Dr. Farney was nurturing and always patient with him. He was sensitive to any pain my husband had. He always explained any procedures he wanted to do and never did anything unnecessarily. Alaadeen soon trusted him. I owe Dr. Farney my sincerest gratitude for making it possible for my husband to continue blowing his sax. After my husband passed, I continued to use Dr. Farney as my dentist. The drive to his office was 40 minutes but I would never go to another dentist. Actually, I tried another dentist closer to home but it just wasn't worth it. There is no replacing Dr. Farney. (Victoria Dunfee Alaadeen)"
"Nelson Farney is THE BEST !! When I lived on the west coast, I flew across the country to be under his dental care. Now I drive 45 mikes across town to have all my dental needs expertly taken care of by Dr Farney. He is gentle and kind with a warm professional personality. His office is peaceful & restful. His staff is friendly & caring. I always know they have my best interest at heart. Speaking from 50 years of experience as his patient, it is my pleasure to highly recommend Dr Farney & his staff for the best care under the sun ‼️"
"Visiting the office gives my family and me more reasons to smile."
"Dr. Farney is very patient and takes time to thoroughly explain all procedures. His office schedules the appropriate amount of time for procedures and therefore he never rushes to complete the procedure. He is, by far, the most gentle Dentist I have ever been to."
"I have been a patient of Dr. Farney's for over 25 years. He has a gentle tough (does not cause you any pain). Dr. Farney and his staff tells you exactly what is going on. My 10 year old daughter enjoys going to the Dentist. Excellent service"
"I have been going to Dr. Farney since I was a child. His staff are kind and compassionate, even toward little girls more interested in stickers than a teeth cleaning. I highly recommend Dr. Farney and his team for any dentistry needs you may have!"
All our professionals maintain the highest levels of accreditation and pursue ongoing education to stay abreast of the latest trends in Periodontics, Endodontics. Prosthodontics, and Oral Surgery. Read more about the doctors.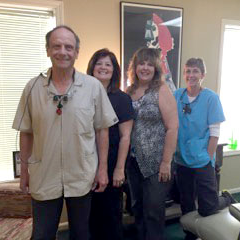 N.E. Farney, DDS